World Police and Fire Games: More officers come to Northern Ireland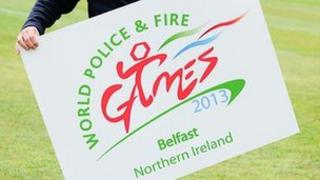 Extra police officers from Great Britain are to help with security at the World Police and Fire Games, which begin in Belfast next week.
About 30 officers, mostly dog-handlers, are being brought to Northern Ireland.
Competitors from more than 60 different countries are taking part in the games. The latest new entrants are 100 athletes from Mexico.
With hundreds of officers from the PSNI participating, there are some concerns about the dissident republican threat.
Assistant Chief Constable Alistair Finlay said the security operation would be "sensitive and proportionate".
Private security firms will be used during the games, as well as about 200 dedicated police officers.
It is the first time the World Police and Fire Games have been held in Northern Ireland, and only the third time they have been held in Europe. Stockholm hosted the event in 1999 and Barcelona in 2003.
The games, which are held every two years, are being staged at 42 different venues across Northern Ireland from 1-10 August.
The total number of athletes so far is just under 7,000 - that's below the 10,000 target, but organisers insist they are happy with the total, and hope that more competitors will sign up in the next week.
A third of those registered are from America, Canada and Australia. Other countries represented include Nigeria, Bermuda and Russia.
Among those who have signed up already is a firefighter from Texas, who is coming with his wife to Northern Ireland to compete in the games as part of their honeymoon.
A total of 56 different sports and events are taking place, including 10-pin bowling, tug-of-war, stair-race, table-tennis and wrist-wrestling.