Protest as Orange parade is stopped in north Belfast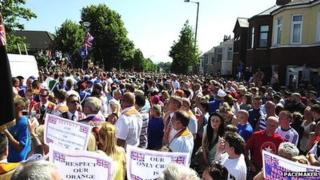 A protest has been held after a contentious Orange Order parade was stopped by police in north Belfast.
Three Orange Order lodges had applied to march past the Ardoyne shops on the Crumlin Road but the Parades' Commission ruled against the move.
Saturday's parade stopped on the Woodvale Road, at Woodvale Parade. The lodges were accompanied by thousands of supporters.
The crowd began to disperse just before 16:00 BST.
The Woodvale Road has now reopened.
Five nights of rioting followed a decision to prevent the lodges walking along a stretch of the Crumlin Road that separates loyalist and nationalist communities on 12 July.
The Orange Order had proposed a new march on Saturday on the same route.
The Parades Commission, the body that adjudicates on contentious parades in Northern Ireland, ruled on Thursday that the proposed parade would not be allowed.
Addressing the crowd from the top of a van, Michael Crosby, from Pride of Ardoyne Flute Band, called for loyalists across Northern Ireland to show their support.
"This is only the start of it. It will continue. We want to fill this place with thousands of people and as for our unionist politicians - our aim is to get the Parades Commission gone," he said.
After the protest, Orange Order grand chaplain Mervyn Gibson said: "I think it was a good day for peaceful protest.
"This crisis has been brought upon us by the Parades Commission - one peaceful protest is not going to solve it. We need people to become involved in politics and we need peaceful protest to try and sort this mess out.
"But, the day so far has been peaceful and long may it continue. Any violence does our cause harm. We will get rid of the Parades Commission but we will do it by peaceful protest and politics."
Mr Gibson also praised the police operation: "The police response was excellent today. We had sensible policing - sadly we don't always see that."
Earlier, Northern Ireland Secretary of State Theresa Villiers warned that further violence linked to parades would damage attempts to attract jobs and investment to the region.
The Orange Order appealed for calm ahead of Saturday's parade.
It said any violence "would play into the hands of republicans".
On Friday afternoon, the County Grand Orange Lodge of Belfast issued a leaflet on behalf of the three Ligoniel lodges, bands and local residents.
It was distributed to people at Saturday's parade. It stated that the march was about showing "we have not and will not go away", and called on supporters to stop at the Woodvale Road at the line of Orange marshals.
"After a period the National Anthem will be played and we will all disperse," the leaflet says.
"No matter what the provocation, violence is not the answer. Any violence will play into the hands of republicans."
The leaflet added that the organisers' campaign would unfold over coming months.