Richard Haass faces challenges to broker consensus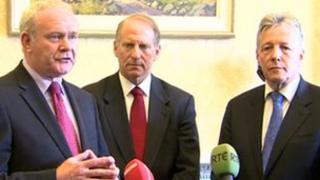 So can former US envoy Richard Haass succeed where Paddy Ashdown and others have failed?
Replacing the Parades Commission with another quango with a different name is entirely achievable.
As previously noted on this blog, a blueprint already exists for an alternative.
That DUP-Sinn Fein blueprint, drawn up in 2010, has numerous drawbacks, but it shouldn't be beyond the bounds of a team as experienced as Richard Haass's to fine tune the proposal.
Moreover, if a new quango is seen as an independent Haass initiative, rather than a DUP-Sinn Fein baby, there might be less knee-jerk opposition from other parties.
Changing the brass plate on the Parades Commission's door would have some immediate benefits.
If the Orange Order was prepared to deal with the new body, it might enjoy a honeymoon period.
If all the main Stormont parties got behind the body - rather than labelling its decisions "illogical" - it would have more room for manoeuvre than the current commission.
But there are significant obstacles.
In 2010, Orangemen linked to the TUV and UUP persuaded the Grand Orange Lodge not to back the DUP endorsed blueprint.
Even though the Reverend Mervyn Gibson, who was involved in drawing up the plan, said that was a mistake, it's not clear if the balance of opinion on the Grand Lodge has shifted.
More than this, even if a new quango is agreed, its honeymoon period will almost certainly be brief.
For all the invective directed at the Parades Commission, marching disputes long predated its existence.
As Mo Mowlam discovered at Drumcree, a honeymoon period can swiftly turn sour.
Offer of help
The first time mediation fails, a new quango will have to decide somewhere at some time between marchers and residents and one group will be left feeling angry.
David Cameron told the Commons the secretary of state stands ready to help.
However the direction of travel all points towards devolving responsibility for parading to local politicians.
This may be seen as progress.
Yet if the recent controversies about arms length bodies in housing or planning are anything to go by, then some very high fences will have to be erected around any new tribunal in order to ensure that justice is done and is seen to be done free from political interference.
Perhaps a new quango will be more transparent and look more like a court than the Parades Commission.
But how will it deal with the implicit and explicit threats of force or disorder which have been part and parcel of marching disputes since the 1990s?
Which returns us to Richard Haass and his associates Meghan O'Sullivan and Charles Landow.
They have been given the task, not just of brokering a consensus on parades, but of forging a deal on disputes over flags and emblems.
In addition there's the vast challenge of dealing with the past, something which Robin Eames and Denis Bradley struggled with and got little thanks for their efforts.
If the Haass team makes any progress on all of this it will be - as the US diplomat himself put it - "time extraordinarily well spent".
Dr Haass's deadline is the end of the year.
If he fulfils his mandate it might make Christmas 2013 a rather more positive time for Northern Ireland than Christmas 2012, blighted as it was by union flag protests, traffic jams around Belfast and deserted city centre shops.