Loyalist flags rioter 'threw brick at police officer's head'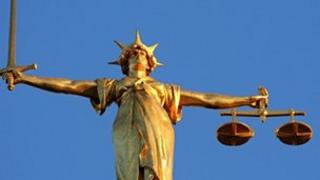 A man is alleged to have thrown a brick at a policeman's head during loyalist flag protests earlier this year.
Nicholas Reilly, 22, of Copeland Road, Carrickfergus, faces three charges connected to trouble in the County Antrim town on 30 January.
Meanwhile, Neil Nabney, 33, of Enler Park Central, Dundonald, County Down, faces a single charge of riotous assembly in Belfast on 5 January.
The men appeared at separate hearings in Belfast Magistrates' Court.
Mr Reilly is accused of riotous assembly, damaging a police van cell, and possession of an offensive weapon, namely a mallet.
At the time of the alleged offences, violence had flared over a decision to restrict the flying of the union flag at Belfast City Hall.
Neither defendant gave evidence nor called any witnesses during hearings to establish if they have a case to answer.
Deputy District Judge Bonita Boyd granted a prosecution application for both men to be returned for trials at Belfast Crown Court.
Each of them were released on continuing bail until those hearings get under way