Unemployment sees biggest fall in 11 years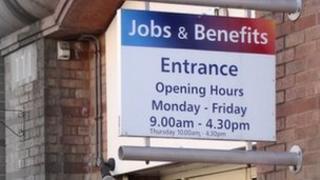 Unemployment figures have seen the biggest monthly fall in Northern Ireland for 11 years.
The numbers claiming benefit dropped by 800 in June to 63,000.
The seasonally adjusted rate fell by 0.5% and remains at 7.8%, the same as the average for the entire UK.
Economy Minister Arlene Foster said: "The decrease in the unemployment rate is positive news, not only for those who have found employment but for the Northern Ireland economy as a whole."
Other figures, meanwhile, show no improvement in the construction sector.
Output in Northern Ireland in the first quarter of 2013 decreased by 1.1% compared to the last three months of 2012.
The overall level of construction output has remained broadly flat for the last nine months.