Northern Ireland shopper numbers continue to fall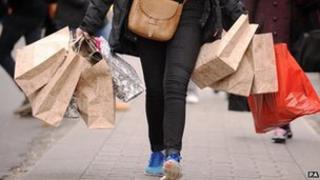 Shopper numbers in Northern Ireland continue to fall and are "considerably worse" than the rest of the UK, according to the latest market survey.
In June, shopper numbers - or footfall - were 5.9% down on a year ago.
Aodhán Connolly, director of the Northern Ireland Retail Consortium, said it had been a disappointing month on Northern Ireland's high streets.
"Despite good offers and promotions that are available, shoppers have continued to stay away," he said.
Northern Ireland contrasted sharply with the rest of the UK where, on average, shopper numbers were fractionally up by 0.1% on a year ago.
Mr Connolly added that footfall had now fallen in Northern Ireland for four months in a row.
"Northern Ireland retains the unfortunate position of showing the worst performance in the UK," he said.
The statistics are provided to the British Retail Consortium by Springboard, who gather data on customer activity throughout the UK using automated doorway counters.
Despite the downward regional trend, Rushmere Shopping Centre in Craigavon, County Armagh, said its shopper numbers had increased by 5.2% over the 12 months to May.
Opened in 1976, it has Debenhams and Sainsbury's as anchor tenants.
Centre manager Martin Walsh said: "Rushmere continues to perform well and visitor numbers are supported by a similar increase in sales at the tills."
Meanwhile, two branches of the Internacionale clothes store have closed in Northern Ireland.
The stores in Ballymena, County Antrim, and Connswater in Belfast are closing in spite of the wider group being rescued from administration. The group has 11 other shops in Northern Ireland.