Marcy Cruz jailed for 22 years for attack on Natasha McShane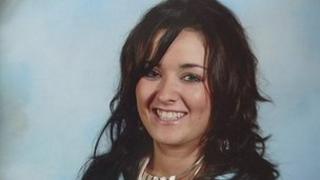 A US woman has been jailed for 22 years for her part in an attack that left a student from Northern Ireland brain damaged and fighting for her life.
Marcy Cruz pleaded guilty to two counts of the attempted murder of County Armagh student Natasha McShane and her friend, Stacy Jurich, in Chicago.
The two friends were attacked by a robber with a baseball bat in Chicago's Bucktown district in April 2010.
Stacy made a good recovery but Natasha was left with very serious injuries.
Coma
Both women were hit on the back of their heads with the metal bat as they walked home together after a night out.
Cruz admitted driving the getaway car during the street robbery.
Earlier this week, she appeared before George Leighton Criminal Court in Cook County, Illinois, where she admitted two counts of attempted first degree murder.
She was sentenced to 22 years, 11 years for attacking each victim.
She was told she must serve at least 85% (18 and a half years) of her full sentence before she can be considered for release.
At the court hearing, Cruz entered a plea bargain, that will see her testify against the man accused of carrying out the assaults.
Her former co-defendant, Heriberto Viramontes, is due to go on trial for the attack in September.
Ms McShane, from Silverbridge in County Armagh, was a 23-year-old student attending the University of Illinois at the time of the assault.
The baseball attack left her in a critical condition, and doctors had to place her in a drug-induced coma.
She spent three months in hospital in Chicago before being transferred home to Northern Ireland.
Ms McShane has been left with extensive brain injuries and has struggled with her speech and mobility.