Belfast judge criticises delays at Forensic Science NI's laboratory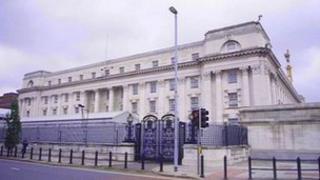 A Belfast High Court judge has criticised delays over forensic testing in Northern Ireland and has questioned why politicians have not intervened.
Mr Justice Weir said a backlog at Forensic Science NI's laboratory was causing "enormous delays" in courts.
He added that investigative authorities in Northern Ireland who are involved in preparing criminal cases must "drag themselves into the 21st Century".
He said the amount of time they took over "simple cases" was a "disgrace".
Mr Justice Weir made the criticism at a bail hearing for a County Antrim man accused of drugs offences.
James Lynch, 29, of Dunclug Park, Ballymena, denies charges of having cannabis and amphetamines with intent to supply.
He was arrested by police after they had tried to search his home on 2 July.
'Pile up'
It was claimed that Mr Lynch locked his door and then threw a bag out of his kitchen window.
The bag was recovered and found to contain suspected cannabis and amphetamines, with an estimated street value of £5,000.
Mr Lynch denies the drugs charges and claimed £615 in cash seized from him was due to a gambling win and the sale of jewellery.
Bail was denied, however, due to the risk of further offences.
During the bail hearing it emerged that tests from a previous seizure in April are still outstanding.
The judge said that material seems to pile up once it is sent to Forensic Science NI's laboratory in Carrickfergus, County Antrim.
"It's causing enormous delays in criminal cases," he said.
"Why some of our politicians don't do something about this state of affairs at the forensic laboratory I just don't understand."
'Other laboratories'
According to his assessment, nothing has been done about previous judicial comment on the situation.
The judge said that police could send material to other UK laboratories.
"In England you can get a serious murder case and you can get a prosecution within a year," Mr Justice Weir said.
"Here the police would still be thinking about putting their file together."
The judge added: "It's about time really that the investigative authorities in this country dragged themselves into the 21st century.
"The amount of time taken up in investigation, putting together simple cases is, I think, nothing short of a disgrace."