Audit Office: Housing Executive made £18m overpayment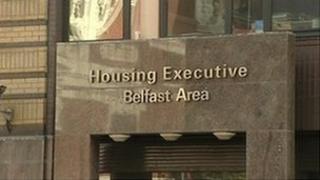 The NI Housing Executive has been criticised in a report from the man who heads up the public spending watchdog, the Northern Ireland Audit Office.
Auditor General Kieran Donnelly said estimated overpayments of £18m to four contractors were a matter of concern.
Last month, Social Development Minister Nelson McCausland said either "incredible incompetence or wilful corruption" allowed it to happen.
Mr Donnelly said he was concerned at the potential loss of public money.
'Challenge'
"I am very concerned the executive's seemingly lax controls appear to have resulted in such a large potential loss of public money," he said.
He said he was "disappointed" the issue was not addressed earlier by the Housing Executive, stating it had an opportunity to do so in 2010, but there was "a considerable degree of challenge" by management to the findings of inquiries.
The report said some of the overpayments related to 20 kitchen repair schemes.
The Housing Executive has told the Audit Office that it was looking at legal means to recover the overpayments and had ordered an independent investigation.
It also said it had put improved controls in place, including more staff to inspect work before payment.