Sammy Wilson says Ulster Bank needs to do more for troubled firms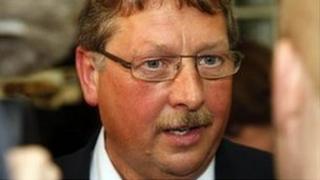 The Northern Ireland Finance Minister Sammy Wilson has said the RBS-owned Ulster Bank needs to do more to help troubled businesses.
RBS has said it has discovered £20bn that can be lent to small firms.
Mr Wilson said businesses were not being "given the time" to work through their debts by Ulster Bank.
On Tuesday, it emerged Ulster Bank would be shedding hundreds of jobs with the closure of 39 branches across the island of Ireland.
Mr Wilson said: "While they say they have found the £20bn of additional funding which they could lend to small businesses, at the same time on a daily basis I am getting reports of businesses that are trying to work through the debts that they have with Ulster Bank and are not being given the time to work through those because Ulster Bank want to get the cash from them as quickly as possible.
"Now they cannot say on one hand that they have got a surplus of cash to lend while on the other hand they say they are acting in a way which tries to make businesses pay off loans much more quickly than even the bank had arranged for them to pay off in order to put cash in to repay the balance sheet.
"There seems to be some disconnect here and the questions that I have been asking the Ulster Bank and will be asking again is why can you not give businesses time to work through some of the difficulties which they have at present rather than demanding cash from them and forcing the receivers in."
The Northern Ireland Assembly's finance committee discussed the closure of Ulster Bank branches on Wednesday.
Members expressed concern at the impact of banking in rural areas, and are to ask senior Ulster Bank staff to appear before their next meeting on Wednesday 10 July.
Mr Wilson said the news that the bank is to shed hundreds more jobs shows it has a lot of work to do to return to profit.
However, he said he had been given assurances that the number of branches going in Northern Ireland is in single figures.
The new post closures are in addition to 950 job losses announced in January 2012.
In total, 1,800 jobs could be lost by 2016, almost a third of its workforce.
Ulster Bank said it hopes to achieve this through natural wastage.
It said the move was part of its plans to return the loss-making bank to profit by 2016.
The bank has so far not given a breakdown of where these closures will occur.
Lending practices
Ulster Bank said the branches would close by the end of 2014 and in future the bank will concentrate more on urban areas and internet banking.
In January of this year the bank announced it was closing 22 branches and sub-offices on both sides of the border.
At the time, the bank said there would be no additional job losses as a result of that announcement.
On Wednesday, Royal Bank of Scotland, which is 81%-owned by the government, launched an independent review of its lending to small businesses.
The bank has hired former Bank of England deputy governor Sir Andrew Large and management consultancy Oliver Wyman to look at its lending practices.
The bank's net lending to business fell by £1.6bn in the first quarter of 2013.
That was despite RBS accessing the government's Funding for Lending scheme, which aims to boost lending by banks