G8: final cost for Fermanagh summit was £80m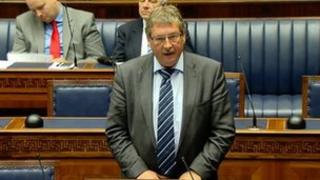 The bill for hosting last month's two-day G8 summit in Fermanagh was £80m, the Finance Minister Sammy Wilson has told the Northern Ireland Assembly.
Most of it, £75m, was for policing and security-related costs.
An additional £5m funded things like road improvements around Enniskillen, publicity campaigns and increased staffing at hospitals during the summit.
London has agreed to pay £60m of the total bill.
Mr Wilson said: "The most important thing is we delivered a safe and secure event. Of course, this did not come free.
"We must recognise that the G8 event has the potential to generate huge economic benefits to Northern Ireland."
The costs emerged as Mr Wilson announced a redistribution of £200m of Stormont finances in the June monitoring round, which included money from the stalled A5 road project.
The main beneficiaries are the Department of Regional Development (DRD), receiving £59m, and the Department of Health, which is getting around £55m.
Boost
Half of the DRD allocation will go on additional road maintenance schemes.
DRD Minister Danny Kennedy had previously suggested advancing other major projects and Mr Wilson said the Magherafelt by-pass in County Londonderry was the one the Executive wanted moving forward next.
But work will not start on the £40m scheme until the autumn of 2014.
Mr Wilson said the money for health would be of huge benefit, believing it would help upgrade hospitals and equipment.
The Department of Enterprise, Trade and Investment is to receive a £19m funding boost.
The money has been earmarked, for among other things, offering aid to new or expanding companies.
"The fact DETI sought this additional funding provides another indication of emerging optimism in the local economy," said Mr Wilson.
He said there was also good news for potential new home-owners.
The Department of Social Development is get £10m for the co-ownership scheme, which is over-subscribed.
The money will help an additional 200 new homeowners onto the property ladder and be a boost to the construction sector, said Mr Wilson.