Peter Robinson calls for police action over drug-linked deaths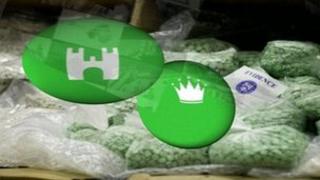 Northern Ireland's First Minister Peter Robinson has said "police need to act" following the deaths of eight people that could be linked to a lethal batch of drugs.
Police are investigating to establish whether those who died took a tablet that they thought was ecstasy.
It is understood five of the people who died are from east Belfast.
Mr Robinson said police needed to pursue the matter.
"It must be a massive concern to people, particularly parents in east Belfast and beyond, that this kind of thing can happen," the East Belfast assembly member said.
"It indicates that the police cannot relax on these matters, they need to pursue, because it is well-known who is selling drugs in east Belfast.
"It is well-known the outlets for the sale of drugs and I think the police have to act."
Over the past number of weeks, seven people died in Belfast and one in the North West of Northern Ireland. They were all aged in their 20s and 30s.
The health minister said he was "very concerned" that the deaths could be linked to a lethal batch of drugs, although he said there was no evidence yet that this was the case.
Unexplained
Edwin Poots was responding to an urgent assembly question raised by Sinn Fein's Phil Flanagan who asked what preventative measures were in place to prevent "further loss of life".
The minister passed on his condolences to the families and said there was a need to show them respect and restraint as investigations were ongoing.
"All we know at this stage is that we have eight unexplained deaths," he said.
He said there could be other explanations for the causes of deaths and that the PSNI had asked for the toxicology reports to be processed as soon as possible.
The minister added he was hoping to get the message out that "drugs should be avoided at all costs".
He said his department was liaising closely with the Department of Justice, the Police Service of Northern Ireland and the Public Health Agency.
Speaking in relation to the deaths, PSNI Supt Phil Marshall said: "We cannot say that these deaths at the moment are linked to drug misuse. Those matters are under investigation.
"We are awaiting a number of forensic results in respect of samples that have been obtained.
"It is alarming that eight young individuals have lost their lives in such a short period of time.
"We have no information or intelligence regarding the existence of a 'bad batch' of anything at this time. But what I would say is that any drugs that aren't prescribed and are used by individuals have potential consequences."
Billy Hutchinson, the leader of the Progressive Unionist Party, which has ties with the Ulster Volunteer Force, has said individual members of paramilitary organisations may be dealing drugs.
"The UVF do not sell drugs, but there may be members of any paramilitary organisation, including republicans, that do," he said.
"I don't know everybody and I don't have that information and I think if the police have that information then they should arrest them.
"Nobody should be beyond this and it doesn't matter what it is in terms of criminality, if people are selling drugs then the police should arrest them and put them in prison."
Jackie McDonald, of the Ulster Political Research Group, which is linked to the UDA, said: "Drugs are part of the culture now, it's escapism for some of the young people. But the people who are making these drugs, know what they are putting in them and they're guilty of manslaughter, it's as simple as that.
"There are people out there making money out of this, they know they're damaging people, it mightn't kill them, but it's damaging their health and it's all for their own particular reason.
"There is no such thing as a loyalist drug dealer, they can be a loyalist or they can be a drug dealer but they can't be both."
'Peddling death'
Earlier, a Christian pastor in south Belfast said his community was feeling "deep hurt" that the death of a man from Sandy Row could be linked to the lethal batch of drugs.
Pastor Paul Burns knew Gareth Morrison who died last week, and said the drug suppliers were "only loyal to the wallet".
"Those that push the drugs that get arrested are usually people that have addictive substance abuse problems themselves," he added.
"It is the ones behind, who are pushing these tablets that are not got, you call them paramilitaries, the only thing they are loyal to is the wallet and making money for themselves.
"They are not loyal to their country, they are not loyal to their community, they are peddling death, they are peddling murder and they need to be taken off the streets."
Forensic tests are expected to reveal whether the deaths of the eight people are linked to a green tablet marked with a crown or castle.
Pastor Burns said Mr Morrison's death was a tragedy.
"Gareth was such a lovely fella, I called him the gentle giant," he said.
"He was always there for everybody.
"There is deep hurt inside my own church, because his family attend my church, there is deep hurt in the community of Sandy Row.
"I would say I am angry, I am angry that such a young man has gone so early in life, because life is given by God to be able to grow up and be able to have children, to be able to move forward in life and to be able to live a long life and enjoy life.
"To go in your twenties is a tragedy."