Relatives take residential care home petition to Stormont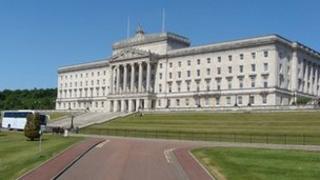 Elderly residents from Northern Ireland's care homes have gathered at Stormont to call for an end to any closures of NHS residential homes.
In April, a consultation was launched over the future of 13 homes.
However, after a public outcry in May, Health Minister Edwin Poots was forced to do u-turn and the health board was asked to re-examine the future of statutory residential care homes.
Health union, Unison, warned those homes could still close "by stealth".
Patricia McKeown of Unison said: "People do not recognise the health minister made a public reversal on home closures but two sentences later, he closed the doors and that means they are not seeing new admissions and those homes will close by stealth.
"We want to get a new decision from the minister to reopen and reinvest in something which is a really splendid part of the NHS."
Alliance MLAs Kieran McCarthy and Stewart Dickson, along with TUV MLA Jim Allister and Ballymena councillor Roy Gillespie also attended the rally.
'Stop pretending'
Mr McCarthy, Alliance's health spokesperson, called the decision by three health trusts to close all their care homes "illogical and irrational".
"These announcements created a great sense of confusion and fear among the residents of these care homes," he said.
"The health minister cannot simply force people into the private sector.
"While many would want to stay in their own home, the minister has a duty to provide residential care home services."
Mr Allister accused the minister of closing the homes by stealth.
"While he was embarrassed into postponing the closures, it is the fact that he has not reversed this ban on new admissions which is the key issue," he said.
"It is vital that these homes are retained within the NHS, because the prospect of everything in the private sector would make us subject to the same dangers as arose with the collapse of Southern Cross in England.
"I am therefore calling on the minister and the DUP to come clean and stop pretending they are fighting for the homes while all the time sustaining the policy which will lead to their demise."