Northern Ireland marks 97th Somme anniversary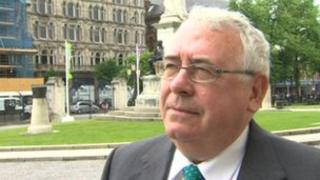 Wreaths have been laid at the Garden of Remembrance in the grounds of Belfast City Hall to mark the 97th anniversary of the Battle of the Somme.
First Minister Peter Robinson and Irish minister Joe Costello were among those who attended.
Dame Mary Peters, the Lord Lieutenant, laid a wreath on behalf of the people of Belfast.
A guard of honour was provided by members of the 2nd Battalion of the Royal Irish Regiment.
The service was also attended by representatives of the churches and the Royal British Legion. Members of the armed forces, veterans, old comrades' associations and the Orange Order also took part.
The commemoration was led by Deputy Lord Mayor of Belfast, Christopher Stalford.
During the wreath-laying, music was provided by the Central Band of the Royal Air Force.
Representatives from the DUP, the Ulster Unionists, the Alliance Party and the SDLP also attended.
Pleased
Earlier the Lord Mayor of Belfast, Sinn Féin's Máirtín Ó'Muilleoir, laid a wreath ahead of the ceremony.
Belfast City Council also passed a motion "paying gratitude to the brave men of the 36th Ulster Division and the 16th Irish Division". The motion added that their "heroism will never be forgotten".
Mr Costello said he was pleased to travel to Belfast to take part in the commemoration.
The Labour TD said he had come to "commemorate the bravery and courage of Irish men throughout the island of Ireland who fought and died".
Mr Robinson told the BBC the Battle of the Somme was an "enormous event from a Northern Ireland perspective".
He said there was "barely a family who would have been untouched by what happened and it is really important that they reflect and remember".
Four hundred and twenty thousand British soldiers were killed or injured at the Battle of the Somme in 1916.
French casualties were estimated at 195,000 and German casualties at about 650,000.