Winner of The Voice Andrea Begley performs in home village of Pomeroy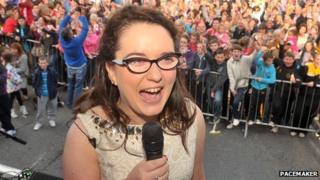 The Northern Irish winner of BBC One's The Voice has celebrated with fans from her home village of Pomeroy in County Tyrone.
Andrea Begley, 27, who is partially-sighted, gained a "lucrative" recording contract for triumphing in the final last weekend.
On Friday evening she performed to an audience in Pomeroy.
Earlier, she said she was looking forward to the experience.
"I think the town is buzzing so I can't wait to get up and see everybody and get feeling the atmosphere and thanking everybody for all that they have done," she added.
"There has just been so much work done and support for me."
Cookstown District Council presented the singer with a civic award on Friday to recognise her achievement.
Last weekend, Begley said she was delighted with her success and that it dispelled any notion of a "sympathy vote".
"I think I can stand back and say now my role in this competition and my success in this competition has been down to my singing and it has not been for any other reason," she told BBC Radio Ulster.
"My vision is obviously a part of me, but it is not everything I am about.
"I just try and find the best way I can around things and I feel very much vindicated that people voted for me because they liked my singing and no other reasons."
The civil servant said she was now keen to get into the recording studio.
"I have got ideas and I have got songs, so I am going to get in the studio and work with people, maybe other writers and see what we can come up with, so I can get something out there pretty quickly," she said.
"From my own personal point of view, I know that I have got ideas and a direction that I need to go as an artist, so there is a lot of potential there.
"It is not an automatic ingredient for success, just because you win The Voice, but if you put the work in, I think there is a good chance there will be success from it and that's what I am willing to do."