Jimmy Spratt apologises for Maze 'nutters' remark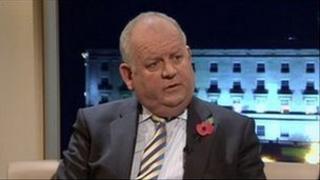 The DUP MLA Jimmy Spratt has apologised for calling opponents of a Peace and Reconciliation Centre to be built at the Maze site 'nutters'.
He said his comments, made in a Stormont committee meeting, were not directed at any groups or individuals.
Ulster Unionist Party leader Mike Nesbitt said he heard the comments but Mr Spratt denied he had said it.
The Hansard report, which is a verbatim report of proceedings, now shows that he did use the term.
Mr Nesbitt said: "In OFMDFM Committee on Wednesday Jimmy Spratt said, 'we will see whether it is on the record in the Hansard report' in relation to words he uttered during comments about opponents of the Maze project.
"Hansard has now been published and is very clear. During a comment from DUP MLA, Brenda Hale saying, 'there is no local opposition to the Maze or the buildings within it', Mr Spratt is quoted as saying 'Except the nutters'.
"Mr Spratt now knows what he has to do. The ball is in his court."
The DUP MLA has since released a statement apologising for his remarks.
"My comments were in no way related to any of the genuine people who have expressed concerns about the Maze project," he said.
"However, in common with other DUP representatives I have been subject to a great deal of personal abuse, often from people who prefer to hide behind online anonymity.
"As someone who served for many years in the Royal Ulster Constabulary and lost many close friends to terrorists I find such comments particularly personally hurtful.
"I attempted to make it clear at the time that my remark was not directed at any groups or individual. However, I apologise sincerely for any hurt caused to those who believed my comments were directed at them."