Men jailed for attempted murder of teenager Jordan Duffy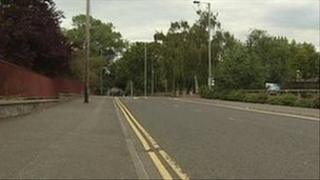 Two men have been sent to jail for the attempted murder of a teenager in Antrim in 2011.
Jordan Duffy, who was 17 at the time, almost died of his injuries.
Nathan Wilson, 22, from Birch Hill Meadows was jailed for a total of 15 years but will serve seven and a half with the remainder on supervised licence.
Colin Kingsbury, 24, from Carntall Gardens was sentenced to a total of 13 and a half years.
Kingsbury will spend six years and nine months in prison before also being released on licence.
A third defendant was found not guilty of any charges following a three-week trial at Antrim Magistrates Court in May.
Jordan was attacked on Station Road in Antrim after returning home from a night out in Magherafelt.
'Horrific ordeal'
He was repeatedly kicked and stamped upon and suffered serious, life-threatening head injuries.
Welcoming the sentences handed down by Mr Justice Devlin, Det Con Natalie Moore said: "The prison terms given to each of the defendants reflects the serious and callous nature of the crime.
"Jordan was subjected to an unprovoked sectarian attack that left him with life-threatening injuries," she said.
"It is a testament to his bravery and strength of character that he fought back from those injuries and is now just finishing his first year at university, making a positive contribution to his community and wider society.
"I know Jordan's parents Roisin and Peter are extremely proud of the way he has dealt with this horrific ordeal and they are grateful for all of the support they have received throughout the past 22 months."
D District Crime Manager Det Ch Insp Colin Gillis added: "The length of the sentences imposed on the two perpetrators of this crime demonstrates just how seriously both sectarian and alcohol-fuelled violence are viewed by the criminal justice system.
"Frequently we see violence on the streets as an after-effect of alcohol consumption and all too often that violence can result in critical injury or even death.
"The defendants in this case claimed that their intoxication was a factor in the assault however the guilty verdicts and sentences handed down serve as a warning to all - being drunk is no defence."