New patient record system benefits all says Poots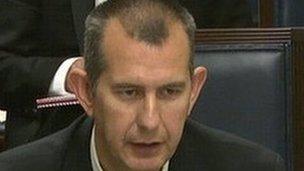 A new patient records system will benefit everyone in Northern Ireland, Health Minister Edwin Poots has said.
The Electronic Care Record (ECR) system is intended to provide accurate and accessible patient records and improve the efficiency of healthcare delivery.
ECR will permit doctors and nurses to access information currently held on dozens of systems.
Northern Ireland households will receive a leaflet on the system, which is launched on Thursday.
Mr Poots said health professionals would be able to see details of "past or ongoing diagnoses and investigations or treatments".
"This will enable better, safer, faster care and treatment for everyone whose care team uses the system," the minister said.
"More timely access by healthcare professionals to more complete information will benefit all patients, reduce duplication and wasted time, and improve safety - for example, doctors can check your x-rays and test results on the computer as soon as they are available so your treatment can start sooner."
He said confidentiality and data security would remain a key priority under the system, which had undergone rigorous testing and could only be accessed by authorised staff over the secure health and social care network.