City Waste plant in Eglinton closes with the loss of 80 jobs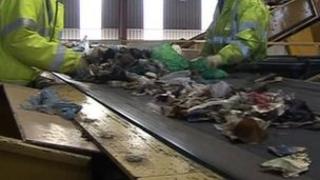 A waste plant in County Londonderry has closed with the loss of 80 jobs.
City Waste had operated in Eglinton for nine years, but lost its licence two weeks ago, following a Department of the Environment (DOE) investigation.
The firm's director criticised the environment minister, saying he had made a "catastrophic decision" that had reduced a viable firm "to nothing".
But in response, the DOE said its investigation had "revealed a range of very serious concerns and issues".
Announcing the job losses on Friday, City Waste director Gerry Farmer said: "We are shocked that a business which has been growing successfully for nine years and which has worked closely with the Northern Ireland Environment Agency (NIEA) throughout should be shut down without warning by the minister."
A statement issued on behalf of City Waste said its licence had been revoked by the DOE due to three "compliance issues on the company's own site" which the firm had been working to resolve.
"These (compliance issues) were being monitored by the company in co-ordination with the NIEA and posed absolutely no immediate risk to human health or the environment while we were in control of the facility," Mr Farmer added.
The director added that his firm had been inspected by NIEA staff as recently as April and said the report they produced had not highlighted any areas of concern.
"We have put everything we have into building this business and have simply run out of the necessary funds to bridge the period of time it would take to effectively fight the immediate revocation of our licence and restore earning potential back to the business," Mr Farmer said.
Investigation
Criticising the minister, Alex Attwood, Mr Farmer added: "The result of his catastrophic decision has been to make 80 people redundant and a viable firm reduced to nothing."
But in response to the City Waste statement, a DOE spokesman said: "The actions taken by the Department of Environment followed a lengthy investigation.
"The investigation revealed a range of very serious concerns and issues. The follow up actions were based upon firm action, lengthy inquiry and the seriousness of the issues.
"The actions taken by the department were entirely legitimate and any claims to the contrary are clearly wrong."
The DOE spokesman added that its investigation was "ongoing" at this stage.