Maze peace centre: RUC widows call for halt to 'shrine'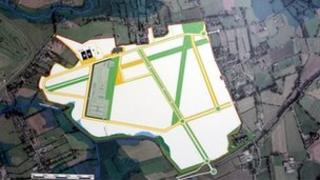 The RUC George Cross Widows Association has called for a halt to plans to build a peace and reconciliation centre at the site of the former Maze prison.
They addressed their plea to Northern Ireland First Minister Peter Robinson.
The jail housed paramilitary prisoners and unionists have expressed fears it could become a shrine to terrorists.
Danna Cochrane from the association said widows oppose the site because they feel it would be "glorifying people who took RUC men's lives".
Speaking on the BBC's The View programme, Ms Cochrane said it was difficult to get middle ground on the issue, "especially on a site like the Maze which is controversial in itself".
Public rally
However, Mr Robinson's DUP colleague Jeffrey Donaldson, who is MP for the area, said he could guarantee that "there will be nothing in the new peace centre that will glorify terrorism".
"I put on the uniform of the Crown to fight against the IRA, I had members of my family circle murdered by the IRA," Mr Donaldson told the programme.
"I am not going to stand over anything that would glorify the actions of the IRA in any sense whatsoever."
Meanwhile, opponents of the peace centre staged a public rally at an Orange Hall in Lisburn on Thursday evening.
They included representatives from the Ulster Unionists, the Traditional Unionist Voice (TUV) and United Kingdom Independence Party (UKIP).
The parties described it as an "opportunity for ordinary people to demonstrate their opposition to the DUP/Sinn Fein plans for the Maze".
Hunger strikers
There have been years of controversy over the scheme to redevelop the former prison site, which housed convicted paramilitaries from 1971 to 2000.
Ten inmates died on hunger strike in the Maze in 1981, as part of a campaign by republicans to secure political prisoner status.
The prison hospital, where many of the hunger strikers died, was among parts of the jail that were retained when the site was cleared for redevelopment.
A watch tower and one H Block have also been retained.
Planning permission for the new peace centre, close to the retained structures, was granted in April.
It has been designed by the Polish American architect Daniel Libeskind, who is renowned for his involvement in the plan for building on the site of New York's Ground Zero.
Mr Robinson has previously rejected claims that the centre would become a shrine to terrorism, while Sinn Fein's Martin McGuinness said it would be a "shrine to peace".