Deputy Prime Minister Nick Clegg backs integrated education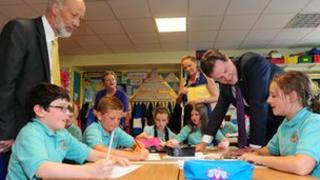 Deputy Prime Minister Nick Clegg has backed integrated education in Northern Ireland.
He was speaking after he attended the British-Irish Council meeting in Londonderry on Friday.
The meeting, at the University of Ulster's Magee campus, was chaired by First Minister Peter Robinson and Deputy First Minister Martin McGuinness.
It focused on a range of economic issues and bringing down energy prices.
The meeting was also attended by the Irish Prime Minister (Taoiseach), Enda Kenny, the first ministers of Scotland and Wales, and the chief ministers of the Isle of Man, Guernsey and Jersey.
Mr Clegg said: "I'm a huge supporter of integrated schools for the simple reason that they teach positive values to little children.
Peaceful
"They're taught to treat everyone with the same degree of respect, to treat people fairly wherever they come from, and I think that is something that has to be a good thing at a time when all communities want to, by and large, live side by side in a peaceful and prosperous Northern Ireland."
After the meeting, Mr Clegg visited Oakgrove Integrated Primary School with NI Justice Minister David Ford.
Mr Kenny joined with Mr Clegg in backing an appeal made by Mr Robinson and Mr McGuinness for a peaceful marching season.
Earlier, Mr Clegg had welcomed a decision to extend a loans scheme for young entrepreneurs to Northern Ireland.
Mr Clegg said that since the scheme's inception last year, it had committed more than £26m in loans.
He said the government wanted young people in Northern Ireland to use it to turn ideas into live businesses.
Its extension to Northern Ireland was announced as part of the recent economic package unveiled at Downing Street.
The British-Irish Council was set up as part of the 1998 Good Friday Agreement.
This was the second time it has met in Northern Ireland.