Northern Ireland railway staff launch 24-hour strike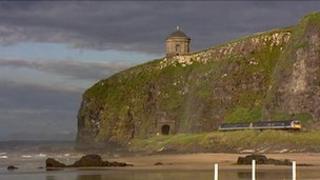 Railway staff in Northern Ireland are to go on strike on Monday, transport company Translink has confirmed.
The company said it was working with the GMB union "to resolve the situation".
The GMB said its members had voted for a 24-hour stoppage throughout Monday 24 June, starting from midnight.
The union said the action related to an ongoing dispute over pay and terms and conditions, "as well as a history of poor industrial relations".
"All other groups have accepted a three-year deal which has been achieved through the agreement of efficiencies such as changes to company sick pay and increased flexibility," the spokesperson said.
"Our members, who are mainly from the conductor and station staff grades, believe that they are being asked to give away too much to fund increases for other groups who have not."
Michael Mulholland from GMB told the Nolan Show that Translink had embarked on a process from 2011 in which they "were looking to make efficiencies".
"The efficiencies that our members have seen over the years have been a reduction in headcount with an increase in workload," he added.
"They have concerns that some of the proposals that have been tabled at the moment have implications on safety."
A Translink spokesperson said bus services would not be affected by the stoppage.
"A small number of railways staff have indicated they will take strike action on Monday 24 June. We are working hard to resolve this with the trade union involved," the spokesperson said.
"Rail services will be affected by this strike action and we will keep our passengers informed as more information becomes available."