Chancellor George Osborne considers Ulster Bank move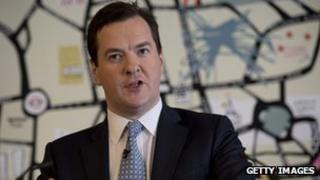 The chancellor of the exchequer has raised the possibility of splitting the Ulster Bank into 'good and bad banks'.
George Osborne has ordered a review into breaking up the bank's parent body, the RBS.
The review will particularly focus on assets in Ulster Bank and UK commercial real estate.
Mr Osborne was speaking at his annual Mansion House address to bankers and businessmen in the City of London on Wednesday evening.
In February, Ulster Bank reported losses of more than £1bn for 2012, a slight increase on the previous year.
The review will report later in the year and will be conducted by the Treasury with external professional support.
Objectives
But Mr Osborne said that the sale of the government's stake in RBS remains "some way off".
"We will urgently investigate the case for taking the bad assets - those mistakes of the past - out of RBS," he said.
"We'll look at a broad range of RBS's assets, but particularly assets in Ulster Bank and UK commercial real estate.
"We're not prepared to put more taxpayer capital into RBS as part of this process. We will establish a bad bank if it meets our three objectives: if it supports the British economy; if it's in the interests of taxpayers - and if it accelerates the return to private ownership.
"But if the review reveals that it would not achieve these things, then we won't do it."
Stormont Finance Minister Sammy Wilson said freeing the Ulster Bank from its bad debts would be the right move.
"For the rest of Ulster Bank then, they can get on with doing the normal business of lending to people and oiling the wheels of the economy and financing businesses," he said.
"I actually think it is a very positive move."