Samuel Dunwoody jailed for life for murder of Margaret Telford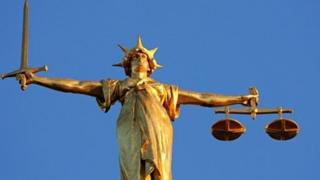 A man has been jailed for life for murdering a Belfast pensioner 25 years ago.
The Belfast Crown Court jury took just two hours to unanimously convict Samuel Dunwoody of killing Margaret Telford.
Dunwoody, 52, originally from north Belfast but with an address in Aston, Birmingham, remained impassive in the dock as he leaned on his walking stick.
Mrs Telford, 68, was found strangled in her Twaddell Avenue home on 4 February 1988.
During the course of the week-long trial the jury was shown a video of the murder scene taken by the then Royal Ulster Constabulary (RUC).
A post-mortem examination revealed that as well as being choked with a ligature, there were injuries suggesting Mrs Telford, 68, had been assaulted around the face and head.
Violent convictions
Dunwoody was arrested and questioned about the killing after a case review in 2011 when scrapings from under Mrs Telford's fingernails were sent for analysis and scientists uncovered Dunwoody's DNA profile.
He has a string of violent convictions for assault, causing actual bodily harm and battery, including attacking the same woman three times, on various dates between March 1982 and June 2009.
The prosecution said he had been in Mrs Telford's home looking for money when she found him.
His motivation for killing the pensioner, they claimed, was to ensure her silence.
The killer, who refused to take the stand during his trial, told police he had known Mrs Telford as a friend, had called regularly at her home, and had last been there on 22 December 1987, while on temporary release from prison.
He also claimed that at the time of the killing he had still been in prison, but further prosecution evidence disproved both claims.
Fled in panic
When Dunwoody alleged he was having tea and biscuits with the pensioner, she had in fact been on a trip to Denmark, and prison records showed that when she was killed, Dunwoody was on temporary release.
He later claimed that he had been at her home to ask for the loan of money but Mrs Telford had fallen down the stairs and he had fled in panic after his attempts to revive her with mouth-to-mouth resuscitation had failed.
Both the previous state pathologist for Northern Ireland, Prof Thomas Marshall, and the current state pathologist, Prof Jack Crane, gave evidence they had found the cause of her death to be strangulation with a ligature.
Following Tuesday's guilty verdict trial judge, Deputy Recorder of Belfast Judge Corinne Philpott QC, jailed Dunwoody for life "in accordance with the law".
Remanding him back into custody, she told Dunwoody she would fix the minimum tariff he must serve before being considered for release on parole after the summer vacation, in the new legal term, once pre-sentence probation reports had been completed.