Obama visit to cause traffic congestion in Belfast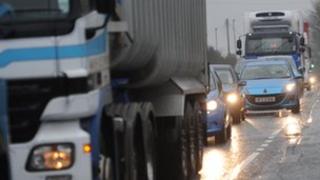 President Barack Obama's planned visit to Belfast on Monday 17 June is expected to cause traffic disruption.
People planning to travel into Belfast city centre are being advised to leave additional time for their journey and use public transport.
Delays are expected in the city centre with closures on the Sydenham bypass, M2 and Oxford Street for a time in the morning.
The US leader is visiting the city on his way to the G8 summit.
Regional Development Minister Danny Kennedy said: "It is very likely that there will be major disruption to city centre traffic on Monday morning, potentially for a number of hours.
"Our advice is that people should only travel into Belfast on Monday morning if they have to.
"For those that do, my strong advice is to plan to be in work or school before 8am or travel later and, if at all possible, use public transport.
"Translink has arranged extra capacity on buses and trains to cope with any additional demand and the availability of bus lanes means that such services are likely to face less delays than general traffic.
"For those people intending to travel to the airport ensure that you plan to arrive early, and check in advance with your airline that there are no problems expected."
Leaders from eight of the world's richest countries will attend the G8 summit at the Lough Erne resort just outside Enniskillen in County Fermanagh on 17 and 18 June.