Flight delays at both Belfast City and International airports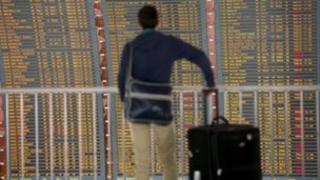 Flights in and out of Belfast City and Belfast International airports have been disrupted due to a strike by French air traffic controllers.
Eleven flights to and from Belfast International have been cancelled and its spokeswoman said there were also "several knock-on delays".
Passengers have been advised to check with their airline before travelling to the airport.
Almost 200 flights across the UK have been cancelled over the strike.
French air traffic controllers are protesting against EU plans to create a single European airspace.
A third day of strikes planned for Thursday has now been called off.