Unemployment in Northern Ireland continues to fall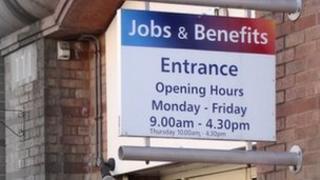 There has been another fall in the number of people claiming unemployment benefits in Northern Ireland.
The month of May saw 200 fewer people claiming the dole. It is the first time in six years that the figure has decreased four months in a row.
The dole claimant total now stands at 64,100.
Northern Ireland's seasonally adjusted unemployment rate also fell slightly to 7.8% and is now in line with the average for the rest of the UK.
The figure decreased by 0.6% over the three-month period from February to April.
The latest statistics are viewed as encouraging by Stormont's Economy Minister Arlene Foster.
She said she is seeing "positive signs" and that the unemployment rate compares favourably against the Republic of Ireland (14.2%) and the European Union average (10.9%).
"It is also encouraging that the claimant count has now decreased for four consecutive months for the first time since August 2007," the minister added.