Omagh bomb appeal scheduled for November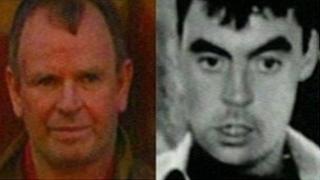 Appeals by two republicans found liable for the Omagh bomb atrocity will be heard in November.
Senior judges have set aside one week for the challenges by Colm Murphy and Seamus Daly.
Earlier this year the pair were held responsible for the Real IRA massacre following a civil retrial at the High Court in Belfast.
A judge identified compelling and overwhelming evidence of their involvement in the August 1998 attack.
Twenty nine people, including the mother of unborn twins, were killed in the blast. Hundreds more were badly injured.
Murphy, a Dundalk-based contractor and publican, and former employee Seamus Daly, from Culaville, County Monaghan, were sued by some victims' relatives in a landmark legal action.
Overturned
They faced a second trial after successfully appealing against being held liable in an initial ruling in 2009.
Two other men, convicted Real IRA leader Michael McKevitt and fellow dissident republican Liam Campbell, failed to have the findings against them overturned.
During the second hearing it was claimed that Murphy supplied mobile phones to the bomb team.
Daly was allegedly linked by a call made on one of the phones just after the explosion.
In March, Mr Justice Gillen ruled that both men were liable "on the balance of probabilities".
He identified compelling circumstantial evidence that two mobiles linked to Murphy were used in the attack.
The same verdict was returned against Daly, based on his conversation on one of the "bomb run phones" less than an hour after the explosion.
Damages
Daly's guilty plea and conviction for Real IRA membership in November 2000 was also taken into account.
The ruling left both defendants liable for an award of damages previously set at £1.6m.
At the time, the Omagh families' senior barrister claimed there was "zero" prospect of Murphy and Daly being able to overturn the decision.
However, a fresh challenge is now being prepared, with trial transcripts being sought by their lawyers.
Dermot Fee QC, for Murphy, told the Court of Appeal his client was in the process of seeking legal aid.
He said: "Because he is out of the jurisdiction, there has to be a formal accountancy report. That is being obtained."
Brett Lockhart QC, for the victims' relatives, expressed disappointment that the appeal was formally lodged just before the time limit ran out.
He pointed out that the legal battle has been going on for 12 years.
Predicting the case could be completed in a two-day hearing, Mr Lockhart added: "At the moment I'm struggling to understand the grounds of appeal."
But after defence counsel suggested it could take twice as long, judges agreed to allow one week for submissions.
Lord Justice Higgins said: "We will fix it for (the week commencing) November 25."