G8 summit: US security arrives in Northern Ireland ahead of Obama visit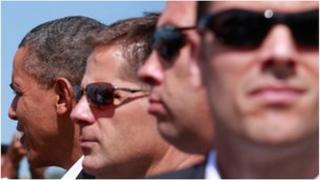 US security teams have arrived in Northern Ireland to review arrangements for the visit of President Barack Obama.
White House officials have also arrived to prepare for his visit to Belfast and the G8 summit in County Fermanagh.
US presidents do not travel light. Wherever they go, a huge security operation swings into action.
The advance teams include secret service and special forces members who will protect President Obama.
It has already been announced that the president will visit Belfast before travelling to the Lough Erne golf resort in Fermanagh to attend the G8 summit.
Security sources have confirmed that significant numbers of American staff have arrived to assist the US Consulate with preparations.
Transport planes, carrying helicopters and armoured vehicles to be used by the president's security teams, are expected to arrive in Northern Ireland next week.
It is understood a detachment of US marines will also be deployed as part of the security operation.