Belfast to Dublin train fire: Investigation under way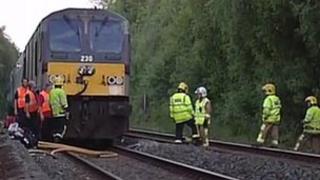 An investigation is under way after a fire broke out on a train outside Newry, County Down.
One hundred and fourteen passengers were on board the Belfast to Dublin Enterprise train when the fire occurred in the engine compartment.
The driver pulled up at Gorawood, a disused station several miles north of Newry, shortly after 19:00 BST.
Carriages were moved away from the train while the fire was brought under control. No one was injured.
Northern Ireland Fire and Rescue Service group commander Eddie Carroll said fire crews had difficulty getting into the engine area.
"The initial crews, on arrival, were confronted with a well developed fire," he said.
"Thanks to the prompt actions of the crews, we've now brought the fire under control."
Transport Minister Danny Kennedy said there would be a full investigation.
"I want to pay particular tribute to the driver of the engine, the crew on the engine and all of the emergency services who have attended," he said.
"I'm relieved that all of the passengers are safe."
Translink said there could be some delays on the line.