County Down fishermen in plea for aid package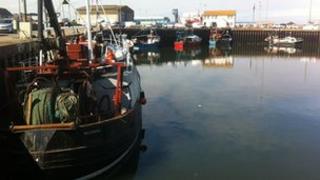 Fishermen in County Down have written to the Northern Ireland agriculture minister Michelle O'Neill asking for an aid package similar to the one offered to farmers.
They say bad weather has caused them huge financial hardship, but they are being overlooked.
The NI Fish Producers Organisation said some boats had not been able to pay wages to crew since last September.
Ms O'Neill said a range of measures had been put in place to help fishermen.
She said she also appreciated how bad weather had affected the "local fleet".
"With regard to a financial package, I have already announced that my department will be providing financial assistance to help the industry deal with the new challenges flowing from the reform of the Common Fisheries policy," she added.
"Probably the most significant change that will affect everyday fishing operations is an obligation to land all fish - which will mean an end to discarding.
"I want to make sure that the local industry is well placed to address this challenge and I want to minimise the potential financial impact this could have on the local fleet.
"For that reason I am establishing a research and development fund to discover the very best technical solutions to avoid unwanted catches."
Ms O'Neill said there would be financial help available to replace fishing gear.
She also said her department would work with the industry "to identify its skills and safety training needs, as well as reviewing other important areas such as vessel operating efficiency, maintaining fish quality and handling and storage of fish on board vessels and on shore".
'Unsustainable'
"There will be a range of financial help from the European Fisheries Fund to follow through on this programme," Ms O'Neill added.
Dick James, chief executive of the Northern Ireland Fish Producers Organisation, said the industry had been hit by the "coldest temperatures ever recorded" on the Irish Sea in January.
He said a reduction in prawns in Northern Ireland waters in mid-September had been compounded by severe restrictions on days at sea in Scottish waters.
Mr James added that strong winds earlier this year had made it "extremely dangerous" for boats to go fishing resulting in them spending a "considerable amount of time ashore".
"The effect of this has been that some of the boats have not paid their crew wages since last September and that is an untenable and unsustainable position to be in," he said.