Man arrested in England over Belfast police murder bid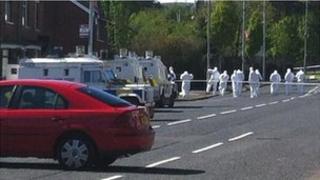 A man has been arrested in England over the attempted murder of two police officers in Belfast earlier this week.
Two pipe bombs were thrown at the PSNI officers after they responded to an emergency 999 call in Ballysillan early on Tuesday morning.
They were attacked as they got out of their vehicle but escaped injury.
The 25-year-old man was arrested at Meole Brace, Shrewsbury, early on Saturday morning. He has been taken to Northern Ireland for questioning.
A 27-year-old woman who was arrested in north Belfast on Wednesday 29 May, is still in custody.