Norman Moffatt murder: jury shown CCTV footage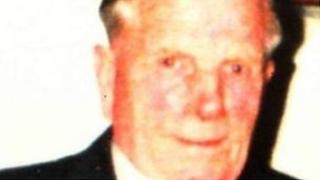 The jury in the trial of a man accused of murdering pensioner Norman Moffatt in Coleraine, County Londonderry, has been shown CCTV footage.
It shows two people whose paths crossed on the morning Mr Moffatt was stabbed in January 2001.
James McCook, 43, originally from north Antrim, but with an address at Stonehill Terrace in Stockport, denies murdering the pensioner.
The court was also told that Mr McCook fled the area after a UDA threat.
The images shown were taken from a camera at an office in Coleraine.
The showed where two people's paths crossed.
The CCTV cameras were filming on Railway Road where Mr Moffatt was stabbed and also onto Circular Road where Norman Moffatt lived.
Details about a loyalist death threat were also revealed in court.
The police on the north coast visited Mr McCook in 2006 and told him that he was under a threat from the UDA.
They told him it was no longer safe for him to live in Coleraine and Portrush area, the court heard.
The police put him in contact with a support group that helps people relocate who are under threat in Northern Ireland.
Mr McCook was then given help to move to England and he went to live in Stockport.
The prosecution has closed its case.