Smithwick Tribunal: 'Jealous' officers made IRA link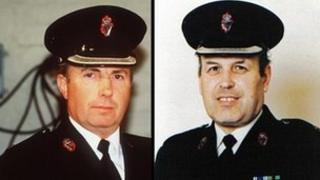 A former Garda (Irish police) sergeant has blamed the British government and "jealous" former RUC officers for linking him to collusion with the IRA.
Owen Corrigan was giving evidence during the closing days of the Smithwick Tribunal.
It is investigating alleged collusion in the murders of Ch Supt Harry Breen and Supt Bob Buchanan in south Armagh in 1989.
They were on their way home from a meeting at Dundalk Garda station.
Mr Corrigan said that during his 13 years in charge of Garda security along the Louth border, he would meet only a small group of RUC officers.
Subversive
He claimed other officers, who later made allegations against him, were jealous at not being included in those meetings.
Mr Corrigan also said he believed the allegations of Garda/IRA collusion were the British government's response to Irish government claims of state collusion in the loyalist murder of the Belfast solicitor Pat Finucane.
During his evidence, Mr Corrigan told the tribunal that he was always "totally opposed" to RUC officers travelling across the border, because of the IRA threat and the level of subversive activity in the area at the time.
But, he said, Bob Buchanan had a strong Christian faith and was a "God fearing man" who thought he would come to no harm.
Mr Corrigan is due back in the witness box on Thursday and the tribunal will conclude its public sittings on Friday.
The tribunal was established in 2005 and is being chaired by Judge Peter Smithwick.
It was due to conclude in November 2011, but has been granted a number of extensions by the Irish government.