Health Minister Poots urged to back plain cigarette packs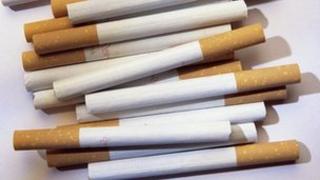 Health Minister Edwin Poots has been urged to back moves to introduce standardised, unbranded packaging for cigarettes.
The call was made by the charity, Northern Ireland Chest Heart & Stroke (NICHS).
It follows the announcement that the Republic of Ireland will be the first country in Europe to require cigarettes to be sold in plain packs.
NICHS say the move will help discourage young people from taking up smoking.
The charity's director of public health, Fidelma Carter, said: "Because young people are particularly brand-conscious, removing all brand identifiers from tobacco packaging has great potential to reduce smoking uptake.
"Most smokers start young. Two-thirds of current smokers took up the habit before they were 18 and more than 80% started before they were 20.
"We hope Edwin Poots will welcome this move and will push for Northern Ireland to follow suit.
"Recent studies have shown that smoking is on the increase in Northern Ireland so it is important that we take all measures to discourage young people from taking it up.
Key findings
"It's the single greatest cause of preventable illness and premature death here, killing around 2,300 people each year.
"Of these deaths, approximately 800 are from lung cancer, which is now the most common cause of cancer death for both men and women."
NICHS also said the hospital cost of treating smoking-related illnesses in Northern Ireland is in the region of £119m every year.
Fidelma Carter added: "One of the key findings of a recent Department of Health review in London was that non-smokers and younger people found plain, standardised packs more off-putting than smokers and older people.
"So if we want young people to be discouraged from taking up smoking we should introduce standardised packaging at the earliest opportunity."
Earlier this year, the Scottish government pledged to introduce plain packaging as part of a plan to cut the number of smokers to less than 5% of its population by 2034.
In response to that announcement, Simon Clark, director of pro-smoking group Forest, said: "We support all reasonable measures, including education, that will discourage children from smoking.
"Plain packaging is unreasonable because there is no credible evidence that it will have any impact on youth smoking rates."