Narrow Water bridge: Former business leader criticises delays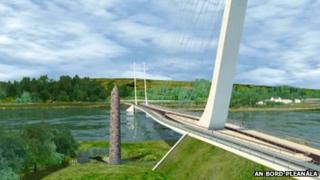 A former business leader in south Down has criticised the department of finance over delays to the construction of the Narrow Water Bridge.
John Boylan is concerned the project might lose EU funding if Stormont does not make a decision about £3m needed to begin construction.
Finance Minister Sammy Wilson has ordered a feasibility study.
Planning permission was granted last October for the bridge which would link County Down and County Louth.
It is to be 660 metres (2,165 feet) long across the Newry river channel and will cost almost 18m euro (£15.38m).
European funding of 17.4m euros (£14.87m) was secured last October.
Planning authorities on both sides of the border have given permission for the bridge to go ahead.
But Mr Boylan, a former president of Warrenpoint Chamber of Commerce said the project can not go ahead until an economic appraisal is carried out by the finance department.
"It is very frustrating that it takes this amount of time to make a business study," he said.
"Already a business study has been done by Europe and the Irish government so it's our own people in Stormont.
"There is a danger the funding could be lost and let's face the facts, if it's lost and it's lost through the slowness of the finance department, that money goes back to Europe, it doesn't go anywhere else, so we're basically saying to Europe, we don't want your help, we don't need your help, you can have your £17m.
"What will that say to European funders for the future?"
Mr Boylan said the project had the potential to create 226 jobs initially.
"Once the bridge is built, more jobs will come in on the tourism end," he said.
"This bridge isn't just for Warrenpoint and south Down, this is for the whole of Northern Ireland, this is a new gateway into our country and that is going to unlock an unfathomable amount of jobs and investment.
"It has got nothing to do with politics, it has got to do with people, jobs and we need our executive to say, yes to jobs, yes to business, and yes to the Narrow Water bridge."