Tassagh double murder: Fourth Smith brother in court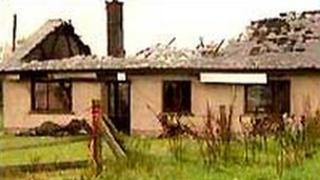 A County Armagh man has appeared in court accused of a double murder with which his three brothers have already been charged.
Christopher Paul Smith, 33, formerly of Mourneview in the village of Mowhan, was arrested in Essex on Wednesday.
He is accused of the murders of Thomas O'Hare and Lisa McClatchey in 2006.
The couple were beaten with hammers by a gang of masked men before their house on Foley Road near Tassagh, County Armagh, was set alight.
They both later died from their injuries following the attack in November.
An hour after the attack, four badly burned men appeared at a hospital across the border in County Louth.
They were later transferred for specialist treatment in Dublin.
Two of the Smith brothers, Martin and Niall, were arrested in the Republic of Ireland and extradited to Northern Ireland in January.
Their youngest brother, Stephen, was later arrested in Australia and flown back to Northern Ireland.
At Armagh Crown Court on Friday morning, Christopher Smith spoke only to confirm his name and date of birth.
A committal hearing will take place on Tuesday with a view to him appearing alongside his brothers when the trial starts in early November.
All four deny the charges and remain in custody.