Two sentenced for murder of Michael McIlveen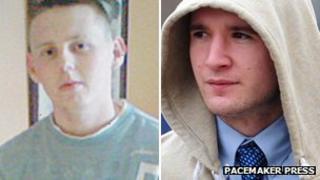 Two Ballymena men have been given life sentences for the murder of a schoolboy seven years ago.
Christopher Francis Kerr, 26, from Carnduff Drive, will have to serve at least nine years before he can be considered for parole.
Aaron Cavana Wallace, 24, from Moat Road, will serve eight years. Both men pleaded guilty.
Fifteen-year-old Michael McIlveen died from brain injuries the day after he and two friends were attacked in 2006.
In sentencing, the judge said he was distinguishing between the pair as Kerr had obtained the baseball bat used in the attack.
The man who used the bat, Mervyn Wilson Moon, 25, from Douglas Terrace, Ballymena, is currently serving a minimum 10 year tariff. He pleaded guilty before his trial began four years ago.
Kerr could apply to be released in just two years and Wallace in three and a half years due to time they have already spend in custody for the murder.
It was the second time the pair had been convicted of the killing.
In 2009, Kerr and Wallace were jailed for life after a jury convicted them of the schoolboy's murder but the Court of Appeal quashed those convictions and ordered a retrial.
They pleaded guilty after prosecution and defence lawyers agreed a statement of facts in relation to the roles they played in Michael's death.