Stephen Farry: Teacher training needs to be reformed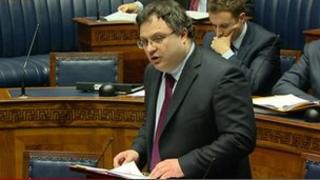 The employment and learning minister has told the Stormont Assembly that the current system for training teachers in Northern Ireland is inefficient and needs to be reformed.
Stephen Farry said the two university colleges, St Mary's and Stranmillis, were costing 40% more than similar institutions in England.
It comes after the publication of a report by consultants Grant Thornton.
The report set a benchmark for the cost and sustainability of teacher training.
Mr Farry said the research found that Stranmillis and St Mary's are the only teacher training establishments in the UK that receive additional money on top of their core funding.
"The cost of these in 2011-12 amounted to £2.16m.
"I believe that the training of teachers in Northern Ireland within the current system is inefficient and we need to examine the case for reform of teacher education provision," he said.
World-Class
"While I have no doubt as to the quality of the teaching carried out by any of the five providers of initial teacher education, my concerns are directed at the fragmented nature of the initial teacher education sector and the direct and opportunity costs that are consequentially borne by us all."
Mr Farry said he did not believe that a change in structure would impact on quality.
He said the second stage of the study will set out options for a more shared and integrated system for the delivery and funding of teacher education, involving all five teacher providers.
"Teacher education must contribute to a world-class education system," he added.
"It must be financially efficient, sustainable and affordable and it must reflect our vision that children are educated through a system which is open, inclusive and shared."
St Mary's College principal, Professor Peter Finn, said their work was grounded in Catholic intellectual tradition of higher education.
"It promotes a Catholic philosophy and anthropology through the pursuit of excellence in learning and teaching.
"The college will guard and protect its ethos and identity, as well as its place as an integral element of the Catholic education sector."