David Wood refused bail after cannabis factory raid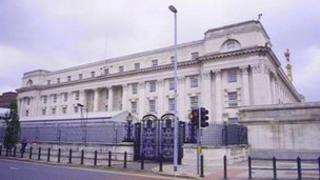 A man arrested at a £200,000 cannabis factory in County Tyrone claimed he was only there to carry out concreting work, Belfast High Court has heard.
David Wood alleged he had gone to the building in Dungannon to meet another man and give him a quote for the job.
He claimed the second man fled through an escape hatch when police arrived.
Mr Wood, 44, of Ferndale Grove, Newtownabbey, County Antrim, is charged with cultivating cannabis and having Class B drugs with intent to supply.
He was detained after police gained entry to a locked farmyard premises in Dungannon last Monday.
The judge was told that officers discovered 415 herbal cannabis plants growing in a sophisticated operation.
'Panicked'
Lights, foil and other equipment was seized from the building, which had been subdivided into sections.
The value of the plants at full maturity was estimated to be £207,000.
The prosecution opposed his bail application, telling the judge that the accused had been in a building that was bolted from the inside.
However, Mr Wood claimed he did not identify himself to police at first because he panicked.
The court heard that he only realised what was happening when the man renting the premises locked the door behind him.
'Flight risk'
"When police arrived at the premises (this man) escaped from the building using what Mr Wood can only described as some sort of escape hatch," a defence lawyer told the court.
The lawyer added that his client had brochures and documentation for his trade.
Refusing bail, the judge ruled that the defendant's account did not make sense.
Citing the risk of flight and possible further offending, the judge said: "This is certainly not a case where I would contemplate granting bail."