Norman Moffatt murder trial: Daughter describes moments after attack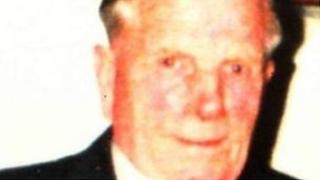 The daughter of a murdered pensioner has described seeing her father just moments after he was stabbed.
Norman Moffatt, 73, was attacked as he walked along Railway Road in Coleraine, County Londonderry, in January 2001. He died two months later.
Norma Moffatt told Antrim Crown Court her father had returned home from buying newspapers, calling his wife's name and asking for a doctor.
She saw her father in a chair, bleeding and in pain.
The pensioner was then taken to Causeway Hospital in Coleraine for emergency surgery but remained critically ill.
A few weeks later, he was transferred to the Ulster Hospital where he died.
James Alexander McCook, 43, with an address at Stonemill Terrace, Stockport, is charged with murder.
He is originally from Northern Ireland but was arrested in Stockport last year. He denies the charge.