Cardiff talks: 'Dialogue and non-violence essential'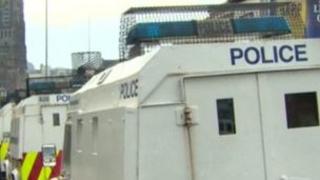 Police, republicans, loyalists and politicians have agreed, following discussions, to resolve differences through dialogue and non-violent means.
In a statement issued after two days of talks in Cardiff, the delegates agreed to keep lines of communication open, especially during periods of tension.
They re-affirmed support for the PSNI, Policing Board and Police Ombudsman.
The talks were organised in an attempt to improve relations between police and republican and loyalist communities.
The issues around parades, flags or interfaces were not on the agenda, the PSNI had previously said.
The joint statement said conversations between all sides "had been candid, honest and worthwhile".
"The goal of this event has been to have an open and frank conversation about policing in Belfast, in particular the policing of public order events and the issues surrounding community and police relations," the representatives said.
They said they intended to continue the discussions upon return to Northern Ireland.
The members of the group said they had collectively agreed on the following:
"We recognize the influence and impact of words and we agree on the need for constructive and respectful language in the coming months.
"We commit to resolve our differences through dialogue and non-violent means, underpinned by the principles of equality, inclusiveness, respect for difference, and non-discrimination.
"We reaffirm our support for the Police Service of Northern Ireland, the Northern Ireland Policing Board, and the Office of the Police Ombudsman of Northern Ireland."
The delegates said they recognised and supported the PSNI's responsibility to uphold the law in a manner that was fully accountable.
"There are consequences for communities and individuals in breaking the law. We recognize that we all have a responsibility to explain these consequences in an understandable and practical way," they said.
High tension
"We will seek ways to increase our engagement with the wider criminal justice system to address policing and community safety issues in the coming months.
"The PSNI have agreed to explain in advance the general principles by which policing will be delivered in major public events.
"We agree that lines of communication - political, community and policing - will be open at all times, especially during critical periods of high tension in our community."
Speaking after the talks, Sinn Fein MLA Gerry Kelly said: "This is about policing with the community and the relationship between police and the community."
"I think, in that instance, in that parameter, the weekend has been successful."
Another delegate, Nelson McCausland of the DUP, said: "There are always people who will not listen to anyone, who are intent on disruption, who have no positive contribution to make to society.
"That's a fact of life, not only in Northern Ireland, but around the world.
"We should do what we can do and that's what we are determined to do."