'First sighting' of wild tawny owl in Ireland at Castleward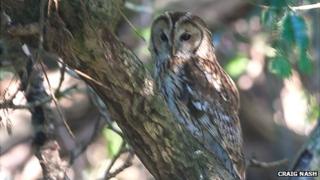 The first sighting of a tawny owl in the wild on the island of Ireland has been confirmed in County Down.
The owl was spotted and photographed on the Castleward estate in Strangford, which is run by the National Trust.
Tawny owls are not native to Ireland and the discovery has caused great excitement among local bird watchers.
No private collectors have reported a missing tawny owl and experts believe it is a wild bird that was possibly blown off course during recent storms.
The picture was taken earlier this week by wildlife photographer Craig Nash, who went to the estate to look for the bird at the request of the Castleward property manager, David Thompson.
Mr Thompson had contacted the photographer for a second opinion, after he and others heard what they believed to be the call of a tawny owl near the estate's sunken garden.
In his online blog, Mr Nash wrote: "I heard it almost immediately I got there and tried to find the exact tree it was calling from. I was helped by three blackbirds, a mistle thrush and a song thrush, all who were mobbing the bird deep in some bushes.
"I still couldn't see it when, all of a sudden, I looked at my level rather than in the tree tops and - bingo - there it was, one beautiful tawny owl."
Since then, bird watchers have been flocking to Castleward to catch a glimpse of the rare bird.
Many made the journey after learning of the discovery on Twitter.
Mr Thompson told BBC Radio Ulster's Your Place and Mine programme: "Credit goes to a lot of people over these last four to six weeks saying 'what is that calling?'"
The Castleward property manager added that after weeks of confusion, and more and more people asking the same question, they decided to get an expert opinion from Mr Nash.
Mr Thompson added: "We're pretty sure it's been here for at least four weeks, maybe longer than that, which would then click in with those easterly winds that we've all suffered from."
He said the winds, during a spate of extremely cold weather in March, would "carry a bird that was perhaps not intent on coming from the east to the west towards here in Ireland, it may well have carried it off route".