Emergency fodder aid for Northern Ireland farmers to begin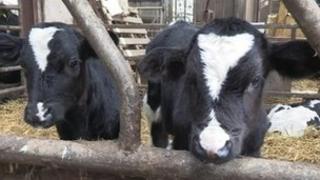 An emergency aid scheme for farmers facing difficulties with fodder shortages will come into effect from midnight on Saturday.
Eighteen months of wet weather has led to an unprecedented scarcity of fodder, and the Stormont executive has agreed £1m in funding to help out.
The scheme provides a subsidy for imported bales of forage.
Agriculture Minister Michelle O'Neill said it was important to make the aid available as early as possible.
"My objective is to increase the supply of feed in the north as quickly as possible," she said.
"I want assistance to farmers to apply from Saturday midnight so that there is no risk of an interruption in supply of fodder.
"By taking immediate action, I hope to sustain local farmers who are suffering due to an unprecedented shortage of fodder.
"The scheme will initially operate until midnight on 31 May 2013, and I will be monitoring conditions closely in the hope that they improve."
The scheme is being operated by Countryside Services on behalf of the Ulster Farmers' Union (UFU) and the Department of Agriculture and Rural Development (DARD).
UFU president Harry Sinclair said: "The minister's announcement that £1m has been secured to help farmers facing unprecedented fodder shortages is very welcome news.
"We have spent much of our time over the last few days meeting with DARD officials looking at ways to address this serious issue.
"The situation on the ground has continued to get progressively worse and now that funds have been secured we must get help to those who need it as a matter of urgency."