Police gun attack 'absolutely disgraceful' says McGuinness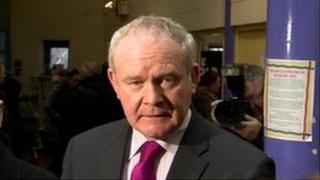 Northern Ireland's Deputy First Minister, Martin McGuinness, has said the gun attack on police officers in west Belfast would have created only "huge misery and heartbreak" had they been killed or injured.
Up to six shots were fired as three officers got out of their vehicle at Foxes Glen on Thursday afternoon. No-one was injured.
They were responding to bogus reports of a burglary in the area.
A 26-year-old man has been arrested.
Misery and heartbreak
Speaking to BBC Radio Ulster's Inside Politics programme Mr McGuinness said that he is very conscious that "there are people out there who are totally opposed to the peace process who are dedicated to trying to plunge society back into the past".
"I think it is absolutely disgraceful that three police officers were shot at in west Belfast," he said.
"The people who are involved in these attacks really need to explain to the public what they are all about because one thing is for sure and that is that they are totally futile, no matter the outcome, to affect the political institutions or the very firm direction of the peace process moving forward.
Mr McGuinness added that nothing would have been achieved if the police officers had been killed or injured.
"The police obviously have a very difficult job to do but if we had seen the circumstance today where three police officers had been killed or badly injured, that's all these people would have achieved," he said.
"It would have been huge misery for the families of those police officers and heartbreak for their friends, but it would not have affected the political institutions because we are absolutely resolute in standing together against those who try to plunge us into the past".
The senior investigating officer, Det Ch Insp Karen Baxter, said: "The shots fired at police yesterday when they arrived to answer a call about a burglary were random and indiscriminate. They were intended to kill police but they could have killed or injured anyone in the area.
"Foxes Glen was busy at the time - children were playing and adults were going about their normal business. It is only by good luck that none of them was injured or killed," she said.
"We are grateful for the support and co-operation of the local community and we want to continue to work with the local community to ensure their safety.
"We would appeal to anyone with information about activity in the wooded area beside Foxes Glen yesterday morning to contact us. This is where we believe the shots were fired."
Det Ch Insp Karen Baxter also responded to allegations from some residents that the police were slow to secure the area after the attack.
"Concerns have been expressed about the length of time it took police to return to the area after the shooting. Previous experience has indicated that on many occasions where an attack has been made on police there is often a secondary or additional means of attack in the same area," she said.
"As a police presence after such an attack can in itself constitute or increase a risk to the community, on many occasions the decision is taken to reduce that risk by removing police officers from the immediate area.
"We do not believe that the police withdrawal yesterday increased the risk to the community. We also believe that it did not adversely affect the police investigation.
"The three officers who responded to the call for assistance yesterday had a lucky escape. They were badly shaken by the incident but they reported for duty this morning and are back at work."
'No regard for life'
Brian Rea, chair of the policing board, said those that carried out the attacks had "no regard for life or respect for the work that police officers do, day and daily".
"It just doesn't need to happen. This country is moving forward and moving forward in the proper way," he said.
Mr Rea also responded to the allegations that police were slow to respond to the incident.
"Police officers have to have regard for the safety of the general public but they also have to have regard for safety and security of themselves," he said.
"I don't think anyone would expect a group of police officers to go straight back in in that case when they are likely or liable to be attacked again by those waiting for them to do just that."
You can hear the full interview with Martin MccGuinness on Inside Politics on BBC Radio Ulster at 18:00 BST on Friday 17 May 2013.