OFMDFM trip to north and south America cost £150,000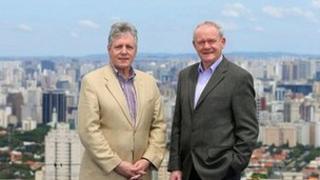 The recent investment trip by the first and deputy first ministers to south and north America cost more than £150,000 according to figures just released by their office.
The two politicians visited Los Angeles, Washington and three cities in Brazil, accompanied by six officials and a photographer.
The party's travel costs, which included eight flights, came to a total of £155,509.
Peter Robinson and Martin McGuinness's trip to Shanghai and Hong Kong in November 2012 cost more than £80,000.
The two ministers were accompanied on that occasion by six officials, a photographer and junior minister Jonathan Bell.
The publication of the figures, by the office of the first and deputy first ministers, comes after criticism of a lack of transparency surrounding these and other trips by ministers.