Gun attack on PSNI officers 'lured' to bogus burglary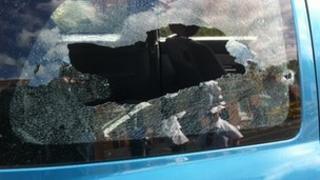 Detectives are continuing to question a 26-year-old man arrested over the attempted murders of three police officers on the outskirts of Belfast.
Up to six shots were fired as the officers got out of their vehicle at Foxes Glen on Thursday afternoon. No-one was injured.
They were responding to bogus reports of a burglary in the area.
The man was arrested on Thursday night. A number of searches are also ongoing in greater Belfast.
Chief Inspector Darrin Jones said: "It is despicable that police officers who were simply trying to give assistance to a person they believed needed them, should be attacked so ruthlessly.
"I feel extremely fortunate and incredibly grateful that those responsible for this attack failed in their goal to murder.
"We could so easily have been dealing with an unimaginable tragedy had the person or persons who pulled the trigger had their evil way."
'Lured to the area'
The police said one line of inquiry was that the officers may have been "lured" to the area to be targeted.
The gun attack happened at about 13:00 BST on Thursday.
The street was busy with children returning from school and playgroups at the time.
Resident Margaret McGrath said: "I heard shots, I heard the police car, the wheels screeching on it and then I saw them really, really drive fast out of here.
"They were speeding so I knew that something had happened.
"I'm disgusted, we left this behind us a long time ago."
A number of homes were evacuated in the area as a precaution, but residents have now been allowed to return.
'Cowardly and callous attack'
Secretary of State Theresa Villiers said those behind the gun attack had "virtually no support".
"These officers were extremely fortunate not to have been killed or injured by such a cowardly and callous attack," she said.
"Those behind this attack have nothing to offer their community."
Sinn Fein councillor Stephen Magennis said the gunmen had "not only jeopardised the lives of police officers but also local people including children".
"We are very lucky no one was injured or killed in this reckless and pointless attack," he said.
Alliance MLA Trevor Lunn said he was concerned by "what appears to have been an attempt to lure police officers into a trap".
"This just reminds us of the need to show extra vigilance, especially during the G8 when there will be a heightened security level," he said.