More unemployed Catholics than Protestants in NI, says census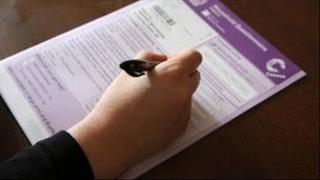 Catholics in Northern Ireland are more likely than Protestants to be unemployed, live in larger households and regard themselves as in poorer health.
The results come from a detailed analysis of the 2011 census figures.
The figures give a detailed breakdown of how Catholics regard their national identity. One in 10 Catholics said they felt British.
However, the vast majority said they were Irish or Northern Irish.
The figures come from the Northern Ireland Statistics and Research Branch.
Only a small number of Protestants - less than 10% - said they felt Irish.
The census also found that Protestants were more likely than Catholics to live on their own.
The average size of a Catholic household is 2.72 persons but within the Protestant community this is 2.41.
According to the census, the majority of migrants from EU accession countries now living in Northern Ireland are Catholics (75%) and 2% of the population (35,700 people) are from EU accession countries.
Among those aged 16-74, 3.9% of Protestants were unemployed on census day while 5.95% of Catholics were unemployed.
Among those aged 65 and over, 18% of Catholics assessed their health as bad or very bad, while 13% of Protestants thought they were in poor health.