Runaway car's plunge halted by tree in Ballymoney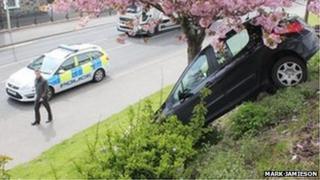 A runaway car was feet from plunging into a busy street when it hit a cherry blossom tree.
The Peugeot 306 was parked Henry Street, Ballymoney, County Antrim, when it suddenly careered down a steep incline towards Meeting House Street.
The car came to a halt yards before reaching the busy road below when it struck the tree.
Meeting House Street includes a busy store, a church and leads to the Joey and Robert Dunlop memorial gardens.