One in 10 Northern Ireland parking fines not paid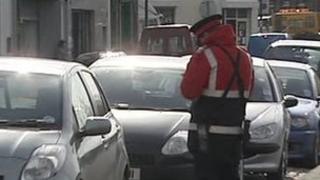 Nearly one in 10 parking fines issued by the Department of Regional Development in the last three years has not been paid.
Figures provided by the department to SDLP assembly member John Dallat show 30,359 out of 351,995 penalty charge notices remain unpaid.
Belfast accounts for one quarter of bad debtors.
The lowest number of debtors was in Moyle, were there were only 86 unpaid fines.
In the last year, the total number of penalty charge notices reduced by more than 13%, but the trend for unpaid fines continues upwards.
In June of last year, MLAs voted to accept an increase in parking fines from £60 to £90 but with a 50% reduction if paid within 14 days.
'Too severe'
Mr Dallat tabled a written question asking for a breakdown for all 26 council areas.
"The loss of revenue is very substantial and will cause problems for the minister when he has to find money for projects which are financially dependent on this source of revenue," Mr Dallat said.
"The system, I believe, is flawed and the decision to increase the penalty from £60 to £90 has only encouraged more motorists to default.
"If we are to have parking fines they should reflect the seriousness of the offence and quite frankly a £90 fine is too severe for someone who has run out of time while parked legally in a legitimate parking space.
"However, for those who obstruct the path of emergency vehicles, as all too often happens or increases the risk of road accidents then that is different. We should have differentiated penalties and perhaps these depressing figures for unpaid fines would improve."